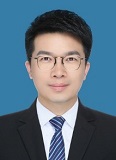 Prof. Yanbo Chen
North China Electric Power University, China
>>>Personal Webpage: Click
Biography
Yanbo Chen, male, doctor of Tsinghua University, professor and doctoral supervisor of North China Electric Power University, visiting scholar of South Methodist Union University. He is also the editorial board member of protection and control of modern power systems, associate editor of IEEE access, special editor of high voltage technology, special editor of electric power construction, IEEE senior member, CIGRE member and member of young editorial board of power system protection and control.
Mainly engaged in power system optimization and analysis, energy Internet optimization and analysis, big data and new generation of artificial intelligence and its application in power system. He has successively presided over three NSFC projects, participated in one NSFC project and one national 863 sub project, and presided over more than 30 scientific research projects entrusted by enterprises and institutions. As the first or corresponding author, he has published more than 90 SCI and EI papers. As the first inventor, he has obtained 25 national invention patents and 3 software copyrights. He won the Excellent Doctoral Dissertation Award of Tsinghua University, the first prize of science and technology progress award of State Grid Shaanxi electric power company, the second prize of science and technology progress award of State Grid economic research system, and the third prize of science and technology progress award of State Grid Hubei electric power company. Reviewers of IEEE Trans (smart grid, power systems, sustainable energy, etc.), applied energy, Iet, Chinese Journal of electrical engineering, power system automation, power grid technology, etc.
Title for speech
State estimation of integrated energy system
Abstract
The integrated energy system (IES) is going to play a critical role of ensuring future energy generations and distributions. To ensure the safety, reliability, quality and economical operation of IES, it is urgent to develop the energy management system of IES (IES-EMS). The high performance IES state estimation (IES-SE) can provide accurate and reliable realtime operation data for IES-EMS, further benefiting other advanced applications. With the rapid development of IES, IES-SE needs extensive attention, and this paper provides a comprehensive survey about it. We proposes a robust SE method based on second order conic programming(SOCP) for IES. Simulations demonstrate that the proposed method ensures a global optimal solution and has good robustness and high estimation accuracy.